2019 Manufacturing Tour Heads East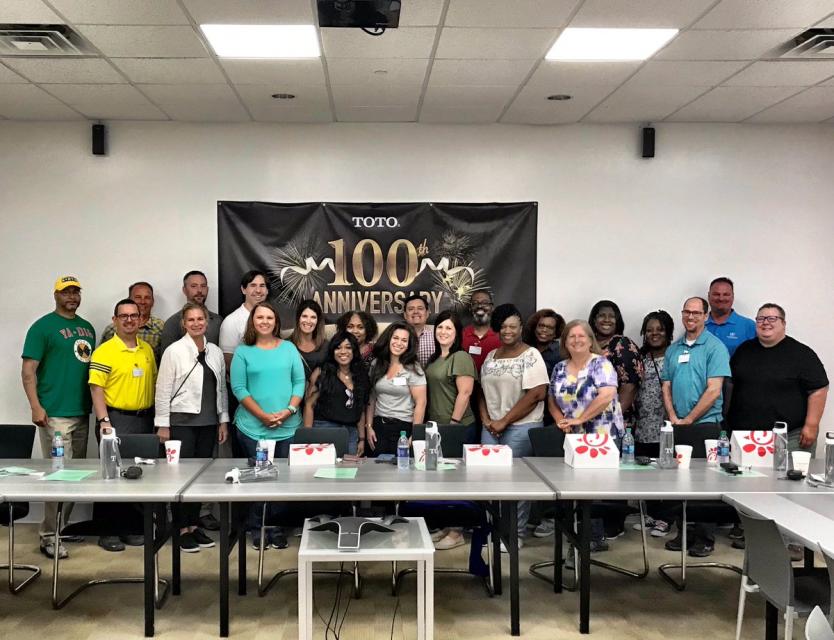 GCEE's summer manufacturing bus tours have developed a good reputation over the last four years for providing top of the line experiences for teachers and access to facilities around the state of Georgia. The 2019 tour was no exception as teachers were treated to exceptional tours of Toto Toilets, Great Southern Wood (Yellawood), Savannah River Brewing, Textron's RPM facility, and Cardinal Health.
The bus tour was originally part of a grant from the Georgia Foundation for Public Education to promote "American Made Movie." The film and the complementary lessons written by the Georgia Council were designed to help teachers understand the importance of manufacturing in the state of Georgia and job opportunities that exist for students outside of traditional college-bound pathways. In addition to the bus tours, the Georgia Council also conducts visits during the school year.
Facilities visited by GCEE since 2015
Caterpillar (LaGrange)
Duracell (LaGrange)
Flowers Bakery (Savannah)
Gulfstream (Savannah)
High Road Ice Cream (Marietta)
Hoshizaki Ice Makers (Peachtree City)
Kia Motors (West Point)
Kings Hawaiian Bakery (Gainesville)
Mitsubishi Wind Turbines (Savannah)
RR Donnelly Printing (Atlanta)
Savannah River Brewing (Augusta)
Southwire (Carrollton)
Textron(EzGo) and the RPM Facility (Augusta)
Toto Toilets (Morrow)
Wild Leap Brewing (LaGrange)
Win-Tech Machining (Marietta)
Yamaha Golf Carts and Wave Runners (Newnan)
Yellawood (Conyers)
Yokogawa (Newnan)
YKK Zippers (Macon)