Stock Market Game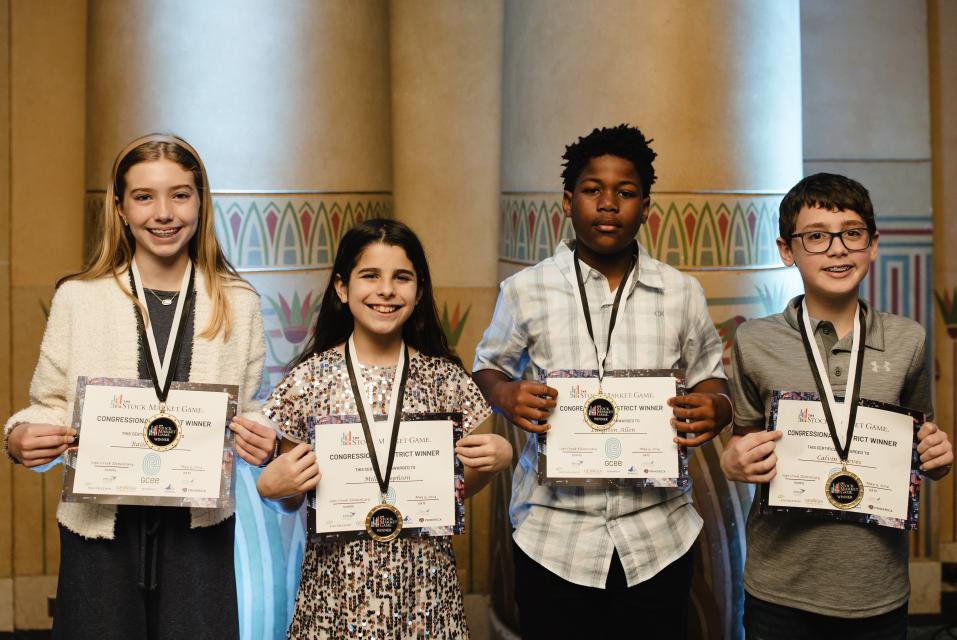 The Stock Market Game is an exciting simulation that gives students in grades 4-12 the opportunity to invest a virtual $100,000 for 10 weeks in real stocks, bonds, and mutual funds. At the end of the 10 weeks, teams with the highest total equity are eligible for a variety of prizes and awards.
The Spring 2023 trading session of the Stock Market Game™ begins February 6th and ends at 4pm Friday, April 14th, 2023. All trades must be entered by 4pm on Thursday, April 13th, 2023.
Click here to play the Stock Market Game
To pay your SMG invoice online click here. (ONLY after receiving your invoice!)
About the Stock Market Game™
Economic education is about more than financial literacy. It's also about the larger economic forces that impact everyone's financial circumstances in the present and future. With equity markets as the model, the Stock Market Game™ is designed to give Georgia teachers a tool for showing students how scarcity, trade, opportunity cost, voluntary exchange, price incentive, specialization, productivity, and many other economic concepts play out in financial institutions they hear about in the news almost daily. Unlike real equity markets, the Stock Market Game™ offers students a safe and pain-free place to learn that the lessons of market economics can sometimes be costly.
To make the best use of the Stock Market Game as an educational tool in the classroom, GCEE requires all teachers to attend Stock Market Game Advisor Training. You can register for a workshop here.
Other important things to know about the Stock Market Game
Teams of 3-5 students are given a hypothetical portfolio of $100,000 that they invest over a 10-week period. The team from each public school district or independent school geographic region with the highest portfolio value at the end of the 10-week trading session wins.
GCEE coordinates the Stock Market Game for the state of Georgia. The Stock Market Game is operated nationally by the Securities Industry and Financial Markets Association (SIFMA) Foundation for Investor Education.
There is a $7 registration fee for each team. Team registrations will be processed through SIFMA. Teachers will be emailed a password and team ID three weeks before the start of the program. After GCEE receives your registration information from SIFMA, you will be invoiced for the $7 team fee.
Beginning in the fall of 2022, the Stock Market Game Prize Structure is changing. The new awards structure is more expansive and rewarding for teachers. Prizes are awarded accordingly:
State Winner- $500 Amazon gift card for the teacher of winning team, trophy, invitation to the Fox Theatre award luncheon, pennant
Congressional District Winners- In each congressional district, GCEE will recognize the top elementary, middle, and high school team with an invitation to the Fox Theatre award luncheon, pennant, and exclusive stock market game t-shirts
School District (Regional) Winners- certificates & stock market game t-shirts
Teacher Competition Winner- $400 Amazon gift card (teacher winner must have active student teams & cannot also be the state winner)
Rural Division Winner- $400 Amazon gift card for the teacher of winning student team
New Teacher Division Winner- $400 Amazon gift card for the teacher of winning student team (eligible only to teachers playing for the first time)
Randomly Selected Winners- Classroom gift boxes awarded every three weeks to randomly selected teams. All Stock Market Game participants are eligible to win
Refer A Teacher Program- Earn a $50 Amazon gift card for referring a teacher that registers student teams and completes a 10-week competition