Lights, Camera, Budget Contest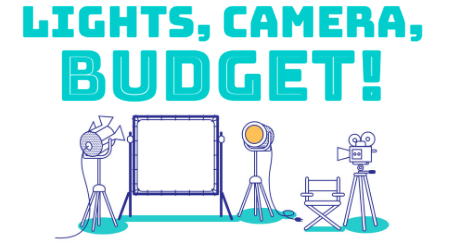 The Georgia Council on Economic Education is running the Lights, Camera, Budget contest for grades 6-12! This is a fun opportunity for both you and your students, plus they will learn some personal finance along the way.
WHAT IS IT? In the game, students take on the exciting role of movie producer, making important decisions about everything from actors and directors to shooting locations and marketing strategy. Their job is to analyze the risks and rewards of each choice and its impact on the movie budget, with the goal of creating a blockbuster movie that doesn't bust the bank.
One student in grades 6-8 and one student in grades 9-12 will be randomly chosen the week of December 7th and those two students, along with their teachers, will each receive an e-mailed Amazon gift card worth $100!
Teachers, the more of your students that enter, the better your odds! This is a WIN-WIN!
Go to the Lights, Camera, Budget homepage to learn about the game and download teacher materials and then check out the details for the contest below:
To enter…
1) Go to gpb.org/lcb .
2) Choose your grade level.
3) Answer ALL 15 personal finance questions correctly (fill your piggy banks with green).
4) Get a 5-Star movie poster.
5) Take a screenshot or a picture of your screen at the end of the game.
6) Upload your screenshot at bit.ly/gceelcb by 10:00pm December 7, 2020.